Our Staff
Pastor Ken Scheck II
Pastor Ken serves Grace as the Lead Pastor and began ministry here on December 1, 2017. 
Pastor Ken is a graduate of Capital University ('90) and Trinity Lutheran Seminary ('94) of Columbus, Ohio. 
Ken's first call in the Evangelical Lutheran Church in America was as Youth and Family Ministry Pastor for Christ Lutheran Church (ELCA) Reese, Michigan and then as Interim Pastor at Resurrection Lutheran Church, Saginaw, Michigan.   After serving in Michigan Pastor Ken served  in Ohio at Salem Lutheran Church, Wooster, Ohio, Zion Lutheran Church, Canton, Ohio, Mt. Moriah Lutheran Church, Berlin Center, Ohio and Emmanuel Lutheran Church, North Georgetown, Ohio.   
Pastor Ken was called to Grace Lutheran Church, Hastings, Michigan, which is part of the North/West Lower Michigan Synod of the Evangelical Lutheran Church in America.  Pastor Ken has his license as an Intentional Interim Ministry and is also a certified Elementary Education teacher. 
Ken is married to Laura Marie Kattherhenrich Scheck, a public librarian, also a graduate of Capital University ('89).  Pastor Ken and Laura have two children.  Ethan is a senior in high school, while Anna is a sophomore in high school.  In his free time Ken loves to watch movies, walk in God's natural beauty, and playing Euchre and other games.  The Schecks' enjoy an annual trip to Camp Luther on the shores of Lake Erie near Conneaut, Ohio.
Wendy Kimble
Wendy has been our Parish Administrator since June, 2018.  She is in the office Monday thru Thursday from 8am to 3pm. Wendy is responsible for preparing weekly worship bulletins, preparing the GraceGram newsletter, maintaining church members contribution records and dozens of other duties that help support the ministries at Grace.
Wendy and husband Gary have lived in Barry County since 1990 and now enjoy a home at Barlow Lake.  Their family is made up of three sons – Troy (44), Jordan (31), and Alex (29) along with daughter-in-law, Ashley (31) and granddaughter Violet (toddler). 
Her career background includes teaching, office management, clerking, and coordinating programs in Christian Education.  The Kimbles are members of the First Presbyterian Church of Hastings and have served in the capacity of teacher, deacon and elder as well committee moderator.
Spare time is spent playing with Violet, reading, kayaking, researching family roots and sewing. 
Cindy Olson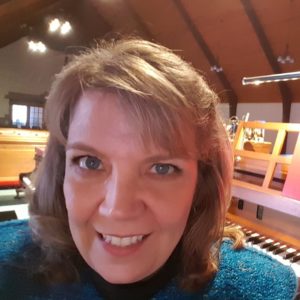 Cindy has been Minister of Music at Grace since the fall of 2002. Her duties include leading worship on organ or piano, directing the choir, coordinating special music at worship, and choosing the musical settings of the liturgy. Cindy sees music as an essential part of the worship experience, and appreciates when others join her in worship leadership.
Born and raised in Ohio, she holds a B.A. in Music from Wittenberg University, M.A. in Church Music, and M.Div. from Trinity Lutheran Seminary. Along with her church responsibilities, she also has a few music students at the Community Music School in Hastings. She sings soprano and serves as an Assistant Director in the Lakewood Area Choral Society, and continues to study voice with its founder, Executive Director and Conductor Dr. Robert C. Oster. She has also started to explore the art of writing choral music.
Cindy lives in Grand Ledge with her husband, Scott, a retail manager, and her cat, Martin.
Cindy can be reached by email at cindyo_2004@yahoo.com
Kim Domke
Kim Domke joyfully serves the Lord through her love of music.  She has been a member of Grace Lutheran since she moved to Hastings in 1987.  She has directed bells since they first arrived at Grace in 2001.  Kim began her ringing career in 1977 at St. John's Lutheran Church in Midland, Michigan and has happily rung every chance she could get since then.  Kim also enjoys serving in the praise band by playing her flute most Sundays.
Kim is a certified elementary teacher who graduated from Central Michigan University ('86) with continuing education at Michigan State University ('89)  Additional certifications include American Red Cross instructor of CPR/AED/First Aid, Water Safety Instructor, and Lifeguard.
Kim currently spends fun-filled days teaching reading and writing in the Literacy Room at Southeastern Elementary for Hastings Area Schools.  She also teaches private lessons on flute, guitar, and beginning piano.  Kim can be found on Saturday mornings at the Hastings Community Center pool teaching water aerobics and swimming lessons.
At Grace Lutheran, Kim is the director of two handbell choirs.  The Clapper Kids consist of students in 4th grade through high school, and include some parents or other adults who are new to music.  The Grace Notes consist of older teens and adults who are accomplished at reading music.  Kim is delighted to lead Thursday rehearsals, instruct music workshops, and attend special bell festivals where ringers play along with hundreds of other ringers all in one auditorium.  To read more about Grace handbell choirs click here.
"I have always enjoyed reading and singing the Psalms.  One that particularly influenced my life is Psalm 9:1-4  I'm thanking you, GOD, from a full heart, I'm writing the book on your wonders. I'm whistling, laughing, and jumping for joy; I'm singing your song, High God.  (MSG)
I believe MUSIC is a PRAYER put to SOUND.  In addition, there is nothing better than live music, either as the musician or the audience, as both are blessed by hearing, feeling, and seeing the prayer.  I love finding ways to share God's message of love through music with others; and the best is having GOOD and NEW friends join in the SONG!"
Kim is the instructor at Grace Lutheran as an authorized provider for American Red Cross CPR/AED/ First Aid courses. To find out when the next class is being offered, contact the church office.
Kim has a passion for helping others and enjoys participating in events such as Vacation Bible School, Barry County Homelessness Event, CropWalk, Relay for Life, and High School Mission Trips.  She also enjoys performing in the community with Thornapple Wind Band, Hastings City Band, and Festival Flute Choir.
Kim is married to Ed, who is a Career and Technology educator/administrator at Hastings High School.  They are parents of an adult child, Luke, who lives in Battle Creek, Michigan.  If there is any spare time in her life, Kim finds joy in reading, traveling to visit relatives around the USA, power walking/talking with friends, and playing with her "grand kitties".
Kim can be reached at   kdomke08@gmail.com